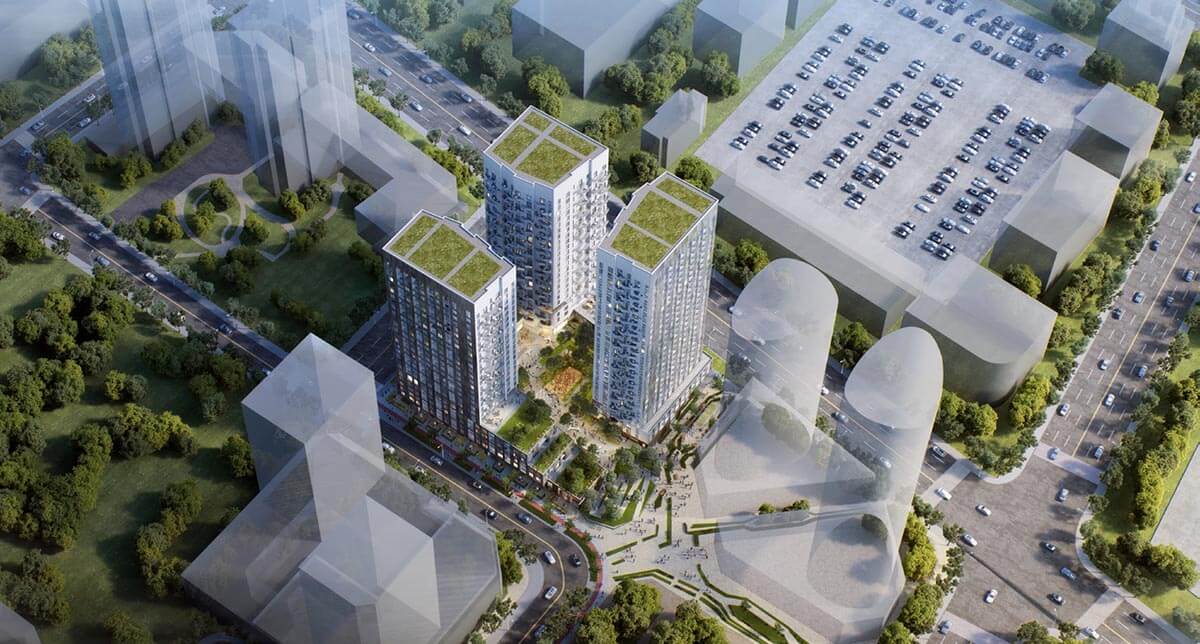 June 18, 2019
Barcelona Inspired New Condos
Coming Soon to Vaughan
When you look at an aerial photo of Barcelona, something unique will stand out about their architecture. Aside from the famous Gaudí buildings sprinkled throughout, there is something else that sets it apart from most other cities. The traditional way that their city blocks take form appear to be like little self-contained cities within themselves. Buildings tightly woven into a circle with a common courtyard in the centre, with winding paths, streets, and corridors running between them. From above, the blocks fit perfectly together, appearing like pieces of a puzzle or honeycomb cells in a beehive.
Coming soon to the corner of Jane Street and Rutherford Road, is our own Barcelona inspired Abeja District. This collection of new condos, multi-use, and commercial buildings in Vaughan, will bring with them the same boldness and bright spirit of the city. The way they fit together, like honeycombs, helped to give this wonderful development its name. Abeja (pronounced ah-beh-hah) is the Spanish word for bee, as in the small and mighty creatures who pollenate our flowers and signal warm weather when it approaches. Bees represent the sun, spring, and community. For such tiny animals, they have big jobs and make it work by living and working collaboratively. The goal for Abeja District is to inspire and create a sense of community within the development that will extend its reach to everyone who's a part of it.
The amenities around Abeja District are seemingly endless. Just around the corner from the development is an incredible assortment of shops, grocery stores, offices, and more. Vaughan Mills is only steps away, surrounded by top-notch restaurants and other businesses. From local mom and pop shops to the biggest names in the Canadian culinary game, whatever dining experience you're looking for, you can find it close to home.
Just north of the development is the brand-new Cortellucci Vaughan Hospital, so in the case of an emergency, you can have some peace of mind. Being located at Jane Street and Rutherford Road means residents will be closely connected to whatever they need, especially with Highway 400, the TTC subway, Züm busses, VIVA busses, and the YRT system just down the street. When you're looking to get outside, you can take comfort in knowing that Vaughan boasts over 10,000 acres of green space for residents to use and enjoy. Sometimes it can be nice to step away from the buzz of the city and into your own little oasis. The parks and greenbelts in Vaughan, such as Edgeley Pond & Park, mean that your escape is never too far.
European cities like Barcelona are designed in a way that makes everything convenient and accessible and it was this architectural style that served as the inspiration for the prime location and design of the Abeja District. When all the pieces of your life are in such close proximity, it helps reinforce a sense of community that is hard to come by when everything you need and know is far away. At Abeja everything is near to you, and you are able to rely on those around you, forming a bond with the people in your neighbourhood. A bold, vibrant swarm of life and activity surround you here, creating an an environment of inclusivity. Abeja District is the epitome of community coming together to create something beautiful. This is unity in the unique.
To register to receive more information, please click here.